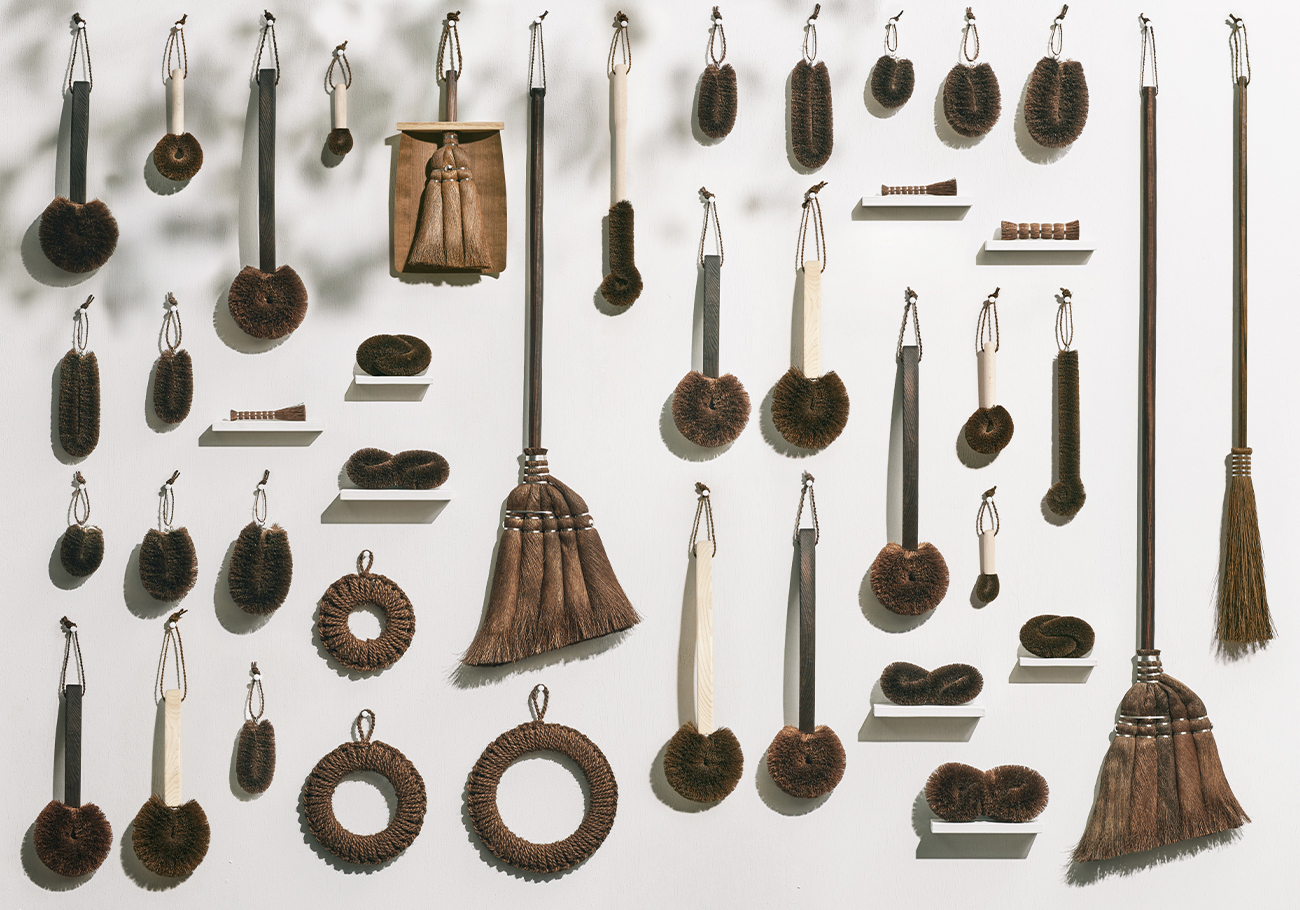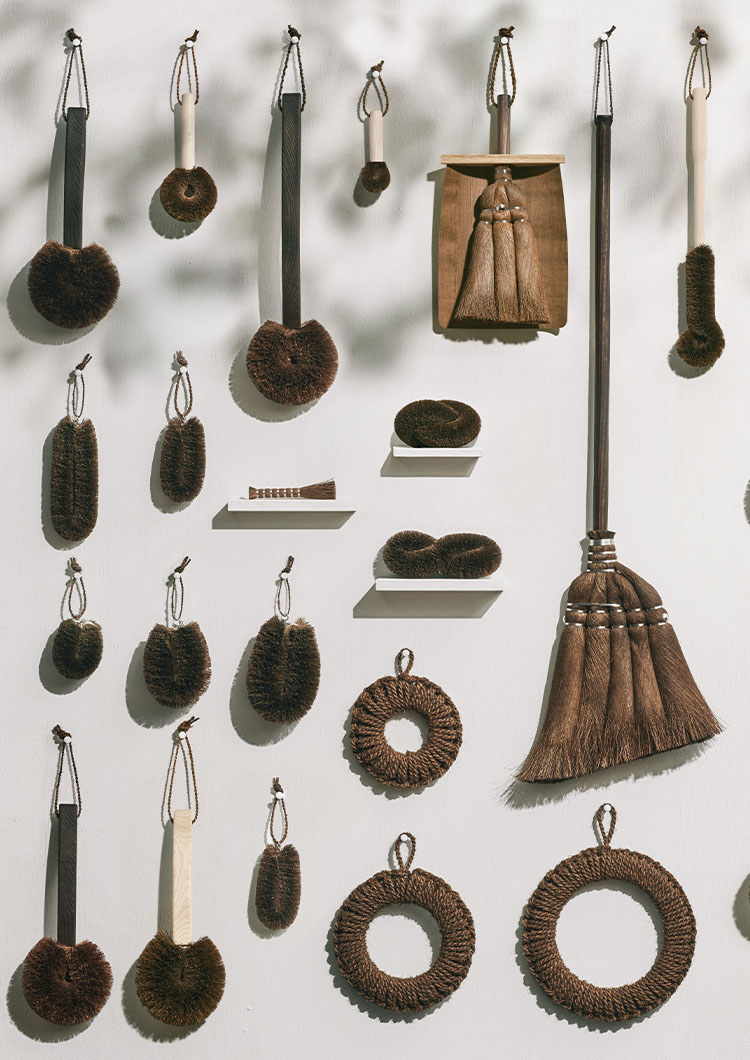 ABOUT OUR BRUSHES
Tawashi are traditional Japanese scrubbing brushes made from the fibers of the windmill palm. For centuries, these kinds of brushes have been used in Japan for cleaning pots and dishes. With over seventy years of experience, our specialized artisans have honed their skills in handcrafting tawashi scrubs, one by one. They have learned to procure materials harvested from trees cultivated in the Wakayama Prefecture, which yield bristles that are much softer than palm fibers grown in other regions of the world. Despite their stiff appearances, these bristles that are unique to Japan, are surprisingly gentle, making them perfect for cleaning fruits and vegetables, as well as suitable for bathing. When used as a body cleansing brush, whether dry or wet, tawashi leave a pleasant, reinvigorating sensation on the skin. But don't take our word for it—pick one up and experience firsthand the ability of Takada brushes to turn small everyday moments into something extraordinary.
BATH
Hand-crafted using carefully-selected windmill palm fibers from Wakayama, Takada's body brushes are gentle enough to use directly on the skin. Because pesticides and disinfectants are not used, the brushes are safe for the sensitive skin of children and the elderly. We believe that anything that touches the human body should be lovingly made by hand and not left to a machine. As a result, we rely on expert craftsmanship and the highest quality materials - two essential ingredients that go into the making of every one of our brushes.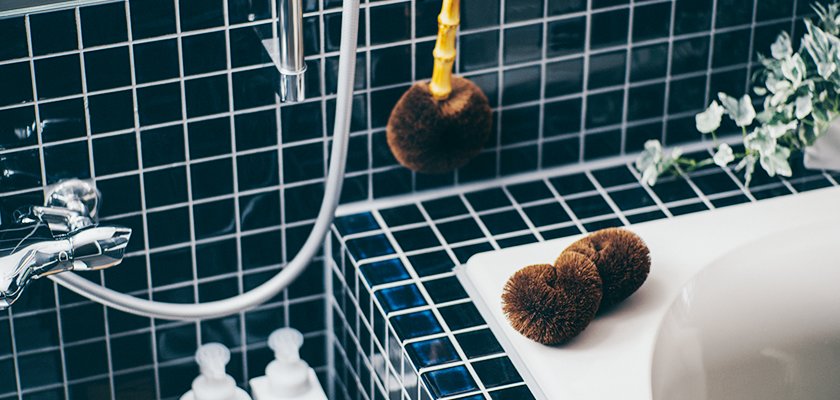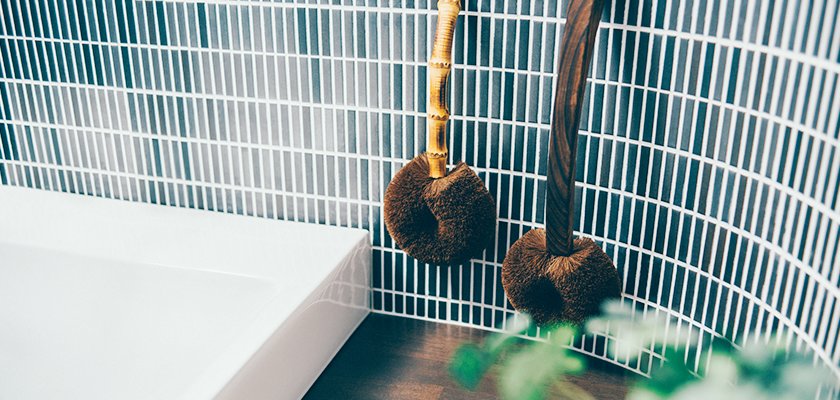 Body Brush with Long Japanese Cypress Handle
(w100 x d400 x h55mm)KOZO-001

Body Brush with Short Japanese Cypress Handle
(w100 x d280 x h55mm)KOZO-002

Body Brush with Long Bamboo Handle
(w100 x d470 x h55mm)KOZO-004

Body Brush with Short Bamboo Handle
(w100 x d280 x h55mm)KOZO-005

Body Brush Twist
(w80 x d160 x h80mm)KOZO-003
KITCHEN
The soft natural fibers of the windmill palm ensure that our brushes have the perfect combination of pliancy and firmness for removing grease and food particles, even from your best glasses and dishware, without scratching. They're also ideal for cleaning fruits and vegetables, gently lifting away dirt without damaging the skin, so you never have to sacrifice nutrition or flavor in the name of cleanliness. Trusted by professional chefs and home cooks alike for helping preserve the integrity of ingredients, our kitchen brushes' high quality and versatility make them an essential tool for any kitchen.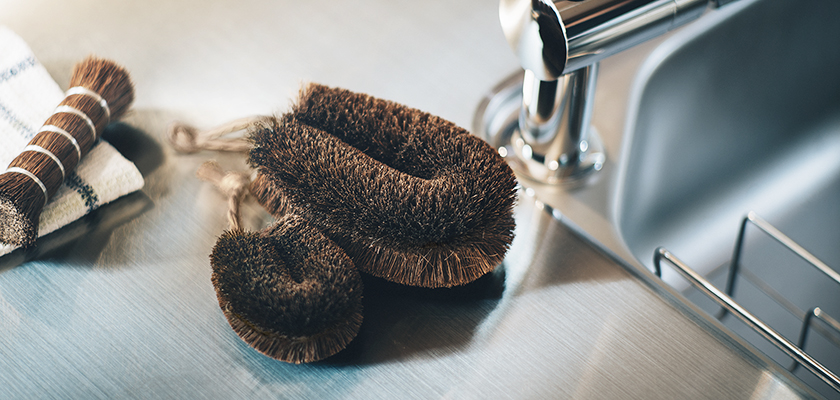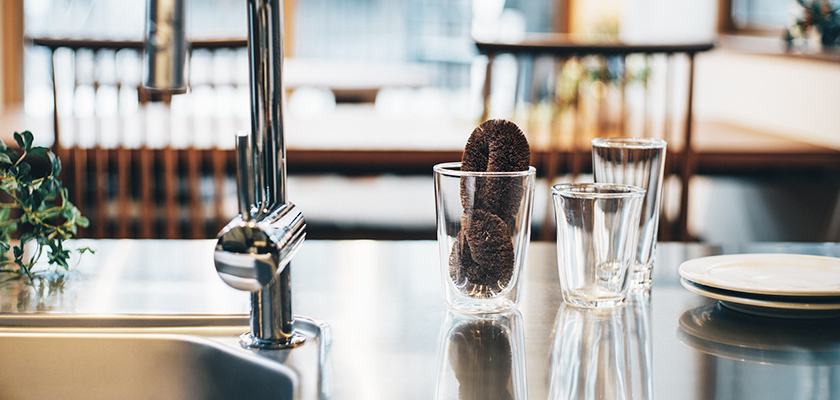 TAWASHI L
(w85 x d130 x h45mm)KOZO-016

TAWASHI M
(w80 x d100 x h45mm)KOZO-017

TAWASHI S
(w70 x d90 x h40mm)KOZO-018

TAWASHI XS
(w65 x d80 x h35mm)KOZO-019

TAWASHI Slim L
(w55 x d160 x h30mm)KOZO-021

TAWASHI Slim S
(w55 x d100 x h30mm)KOZO-023

TAWASHI Twist L
(w60 x d140 x h60mm)KOZO-026

TAWASHI MUSUBI
(w65 x d100 x h65mm)KOZO-032

TAWASHI Stick
(w55 x d270 x h30mm)KOZO-030

TAWASHI with Beech Handle [for bottle]
(w55 x d360 x h35mm)KOZO-032

TAWASHI with Beech Handle [for teapot]
(w40 x d115 x h30mm)KOZO-042

TAWASHI with Beech Handle [for skillet]
(w80 x d170 x h55mm)KOZO-132

SASARA TAWASHI
(dia25 x h110mm)KOZO-044

Hand-knit Pot Stand L
(dia220 x h25mm)KOZO-062

Hand-knit Pot Stand M
(dia180 x h25mm)KOZO-063

Hand-knit Pot Stand S
(dia140 x h25mm)KOZO-064
CLEANING
The fine, supple fibers of the Windmill Palm enable our brooms to sweep away dirt and dust without scratching surfaces, leaving your floors spotless. In Japan, where cleanliness is a key virtue, such brooms have been part of everyday life since ancient times, their simple yet beautiful form, a result of the relentless pursuit of functionality. Made to last anywhere from ten to twenty years, depending on the amount of use, this is one broom you'll never want to part with and will find only improves with age.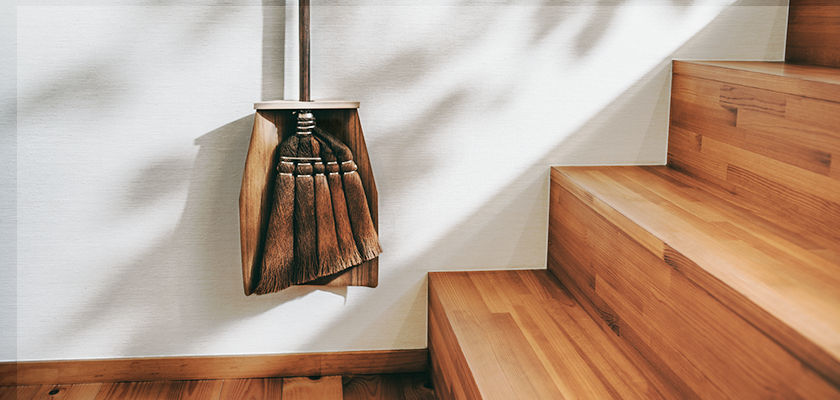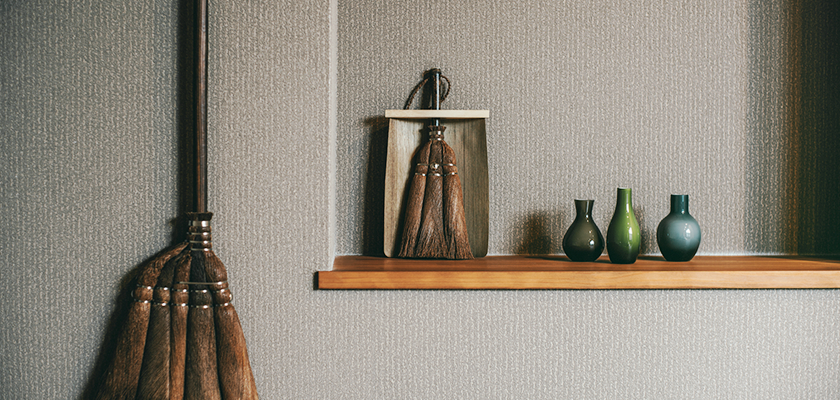 Broom with Long Japanese Cypress Broomstick
(w240 x d1160 x h45mm)KOZO-045

Broom with Short Japanese Cypress Broomstick
(w240 x d860 x h45mm)KOZO-046

Handy Broom with Japanese Cypress Handle
(w110 x d290 x h35mm)KOZO-174

SASARA TAWASHI [for corners]
(dia10 x h110mm)KOZO-053

Natural Wood Dustpan L
(w270 x d350 x h50mm)KOZO-049

Natural Wood Dustpan S
(w170 x d220 x h40mm)KOZO-050

Paper Dustpan Black L
(w280 x d300 x h100mm)KOZO-051

Paper Dustpan Black S
(w210 x d200 x h70mm)KOZO-052

MATERIALS
Formerly, Wakayama was a major producer of windmill palm, a mainstay of the local economy. But production was dramatically curtailed by cheaper imported windmill palm and replacement products such as oil palm. With fewer and fewer farmers to tend to them, windmill palm forests have dwindled dramatically nationwide. We believe the first step toward preserving this traditional industry for future generations is to protect Wakayama's existing windmill palm forests. To that end, we launched a project to nurture this important natural resource and we have been cultivating high-quality windmill palm for many years. Of these, we select only the finest quality materials to make our body brushes. For our kitchen brushes and brooms, where durability is paramount, we use imported windmill palm fibers, known for their stronger, stiffer bristles. You can rest assured in the knowledge that all our products are made with the highest-quality materials, carefully selected according to their intended use.
OUR COMMITMENT TO QUALITY
Carefully-selected, high-quality materials and traditional skills honed over time are the two essential ingredients that go into all our brushes. From a purely business perspective, there's no denying it would be more efficient to manufacture our brushes by machine. But our customers trust and rely on our products every day and they expect them to last for decades. From that perspective, we're confident the past must provide the answers. Our brushes are made by people, for people—always have been, always will. That's the commitment we've carried with us for seventy years, and the one we will pass on to the next generation, just as our ancestors passed it on to us. And that is how we hope to earn your trust—every day.