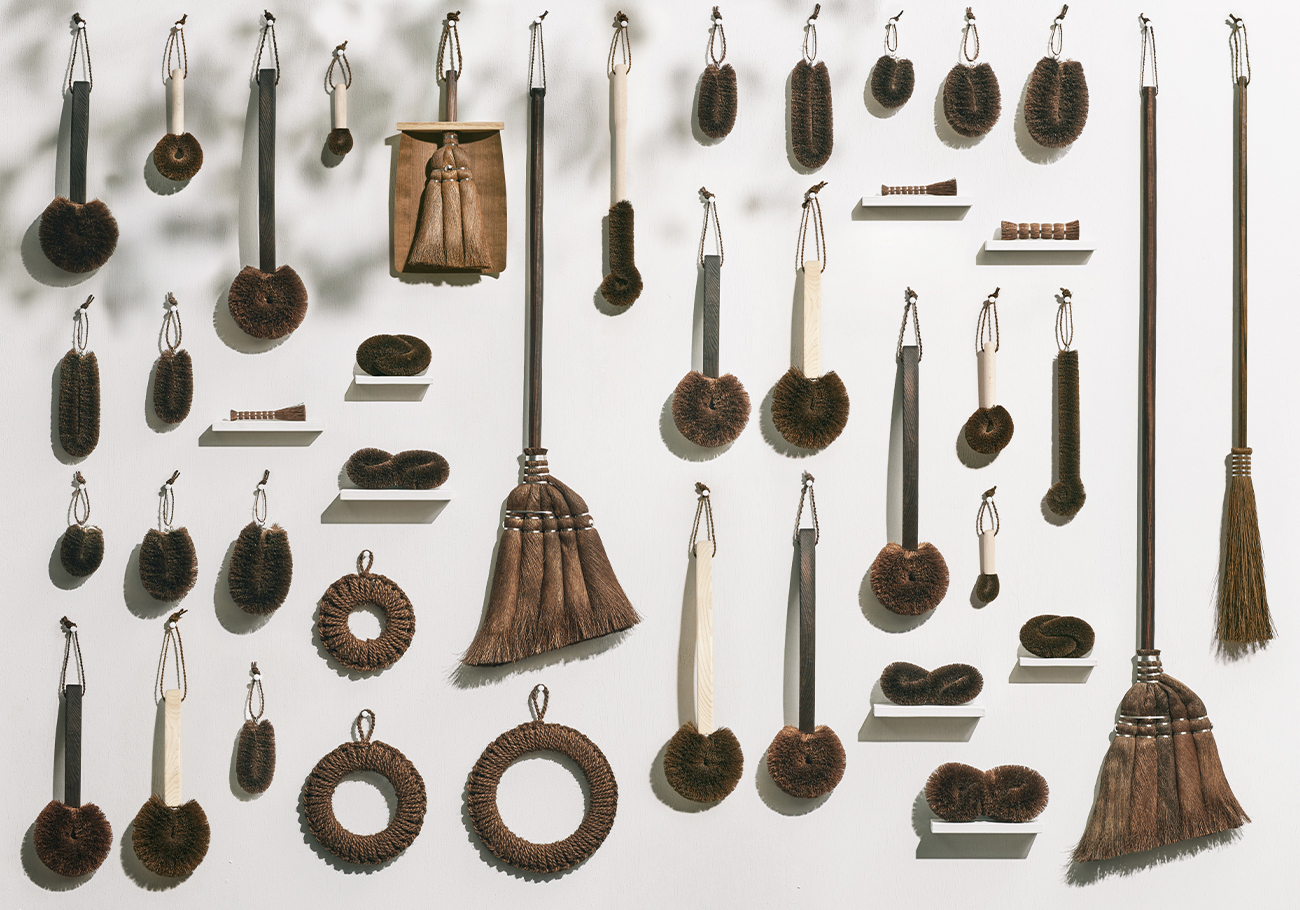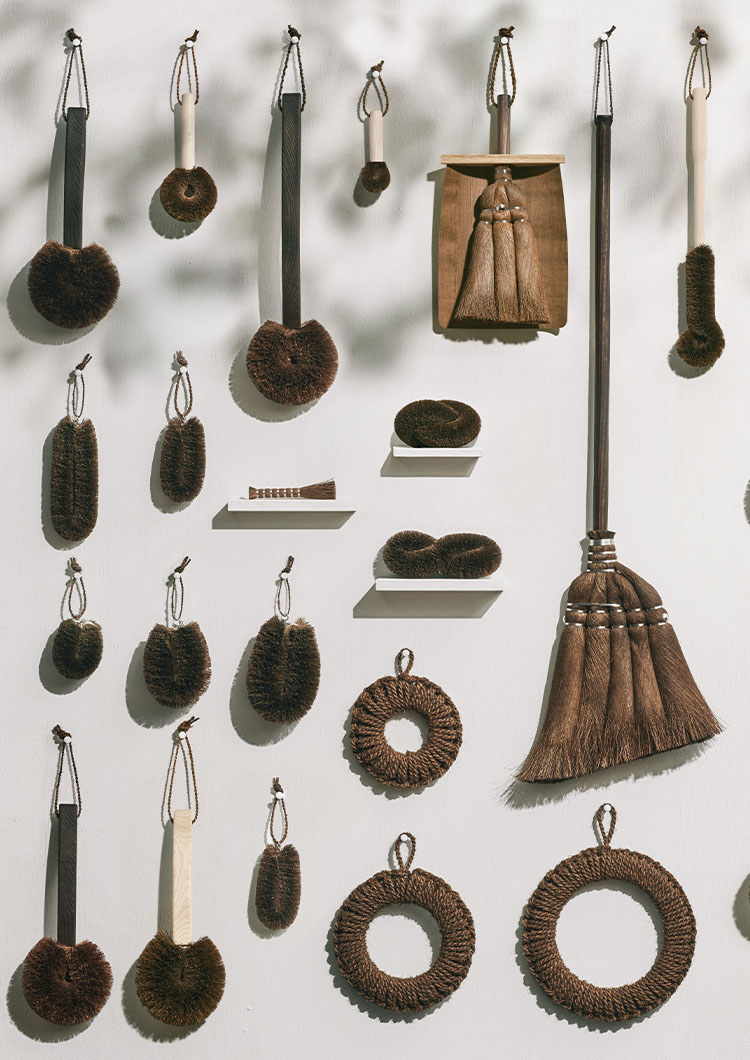 ABOUT OUR BRUSHES
Tawashi are traditional brushes made from the fibers of the windmill palm. For centuries such brushes have been used in Japan for cleaning pots and dishes. For some seventy years, Takada's artisans have been handcrafting tawashi one at a time, using only the finest, carefully-selected materials harvested from trees cultivated in Wakayama Prefecture, in southwestern Japan. Despite appearances, our brushes are in fact astonishingly soft, making them as suitable for bathing as they are for scrubbing fruits and vegetables, imparting a gentle, pleasing and invigorating sensation to your skin. But don't take our word for it—pick one up and experience for yourself the quality that lends the everyday something a bit extraordinary.
BATH
Lovingly hand-crafted using only carefully-selected windmill palm fibers from Wakayama, Takada's body brushes are gentle enough to use directly on the skin. And because no pesticides or disinfectants are used, they're safe for children and the elderly. We believe anything that touches the human body is too important to be left to a machine. That's why we rely on expert craftsmanship and the highest quality materials, the two essential ingredients that go into every one of our brushes.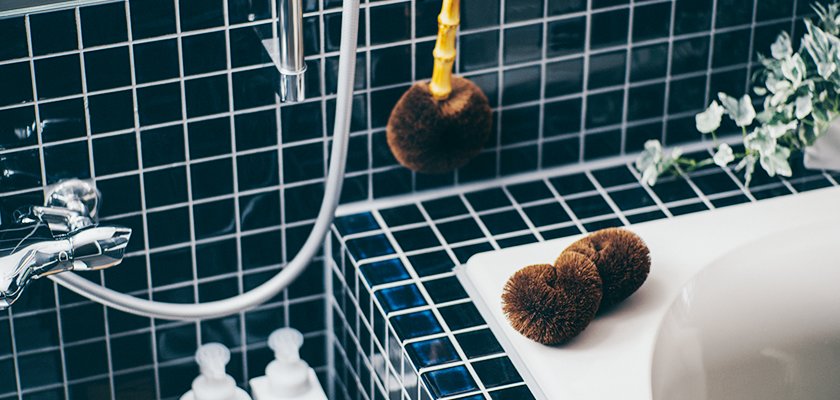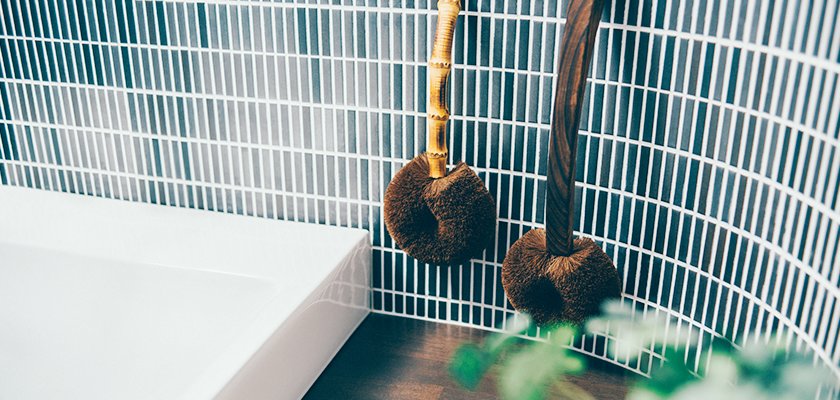 Body Brush with Cypress Handle L
(w100 x d400 x h55mm)TAWA-022

Body Brush with Cypress Handle S
(w100 x d280 x h55mm)TAWA-023

Body Brush with Bamboo Handle L
(w100 x d470 x h55mm)TAWA-026

Body Brush with Bamboo Handle S
(w100 x d280 x h55mm)TAWA-039

TAWASHI Twist For Body
(w80 x d160 x h80mm)TAWA-040
KITCHEN
The soft natural fibers of the windmill palm ensure that our brushes have the perfect combination of pliancy and firmness for removing grease and food particles, even from your best glasses and dishware, without scratching. They're also ideal for cleaning fruits and vegetables, gently lifting away dirt without damaging the skin, so you never have to sacrifice nutrition or flavor in the name of cleanliness. Trusted by professional chefs and home cooks alike for helping preserve the integrity of ingredients, our kitchen brushes' high quality and versatility make them an essential tool for any kitchen.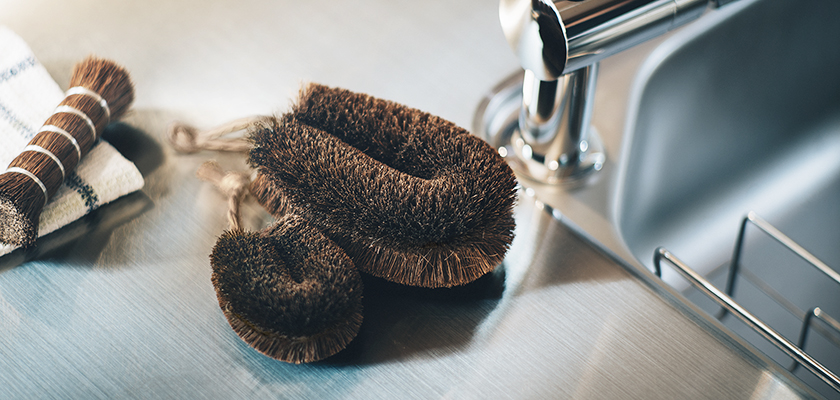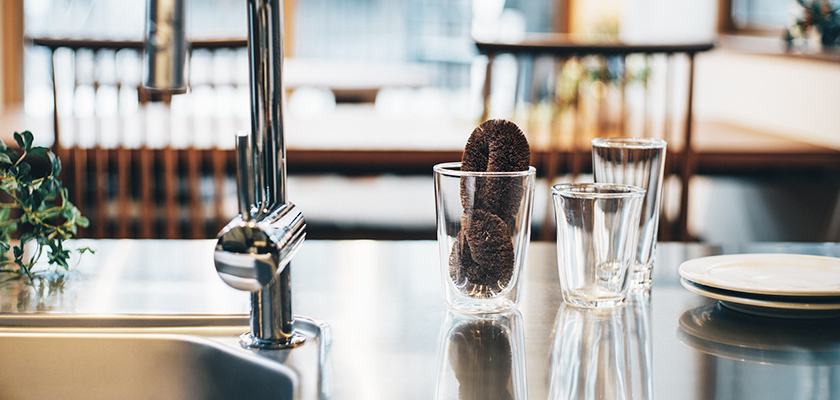 TAWASHI L for Kitchen
(w85 x d130 x h45mm)TAWA-001

TAWASHI M for Kitchen
(w80 x d100 x h45mm)TAWA-002

TAWASHI S for Kitchen
(w65 x d80 x h35mm)TAWA-003

TAWASHI Slim L for Kitchen
(w55 x d160 x h30mm)TAWA-005

TAWASHI Slim S for Kitchen
(w55 x d100 x h30mm)TAWA-041

TAWASHI Twist for Kitchen
(w60 x d140 x h60mm)TAWA-007

TAWASHI with Bamboo Handle for Kitchen
(w55 x d360 x h35mm)TAWA-008

SASARA TAWASHI M for Kitchen
(dia25 x h110mm)TAWA-010

Pot Stand L
(dia220 x h25mm)TAWA-036

Pot Stand M
(dia180 x h25mm)TAWA-037

Pot Stand S
(dia140 x h25mm)TAWA-038
CLEANING
The fine, supple fibers of the windmill palm enable our brooms to sweep away dirt and dust without scratching surfaces, leaving your floors spotlessly clean. In Japan, where cleanliness is a key virtue, such brooms have been part of everyday life since ancient times, their simple yet beautiful form the result of a relentless pursuit of functionality. Made to last ten to twenty years depending on the amount of use, this is one broom you'll never want to part with and will find only improves with age.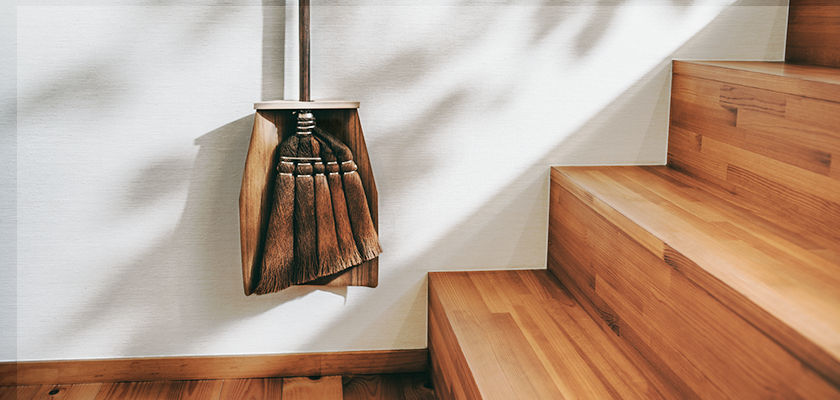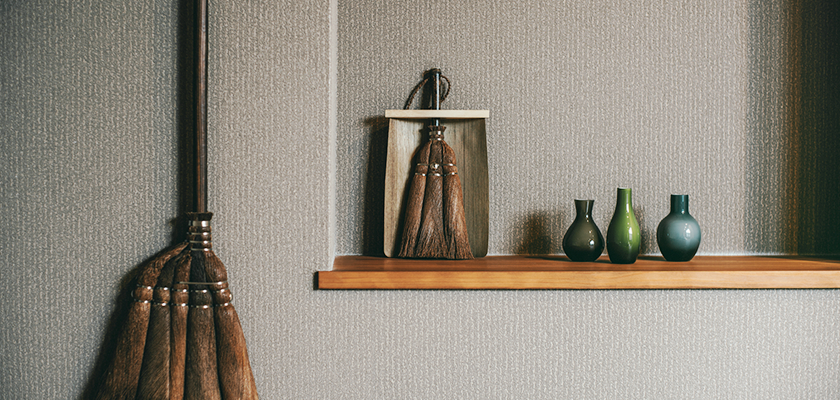 Broom with Cypress Handle L
(w240 x d45 x h1160mm)TAWA-030

Broom with Cypress Handle M
(w240 x d45 x h860mm)TAWA-032

Broom with Black Bamboo Handle S
(w110 x d35 x h290mm)TAWA-033

Natural Wood Dustpan L
(w270 x d350 x h50mm)TAWA-027

Natural Wood Dustpan S
(w170 x d220 x h40mm)TAWA-028

SASARA TAWASHI S for Cleanig
(dia10 x h110mm)TAWA-042

MATERIALS
Formerly, Wakayama was a major producer of windmill palm, a mainstay of the local economy. But production was dramatically curtailed by cheaper imported windmill palm and replacement products such as oil palm. With fewer and fewer farmers to tend to them, windmill palm forests have dwindled dramatically nationwide. We believe the first step toward preserving this traditional industry for future generations is to protect Wakayama's existing windmill palm forests. To that end, we launched a project to nurture this important natural resource and we have been cultivating high-quality windmill palm for many years. Of these, we select only the finest quality materials to make our body brushes. For our kitchen brushes and brooms, where durability is paramount, we use imported windmill palm fibers, known for their stronger, stiffer bristles. You can rest assured in the knowledge that all our products are made with the highest-quality materials, carefully selected according to their intended use.
OUR COMMITMENT TO QUALITY
Carefully-selected, high-quality materials and traditional skills honed over time are the two essential ingredients that go into all our brushes. From a purely business perspective, there's no denying it would be more efficient to manufacture our brushes by machine. But our customers trust and rely on our products every day and they expect them to last for decades. From that perspective, we're confident the past must provide the answers. Our brushes are made by people, for people—always have been, always will. That's the commitment we've carried with us for seventy years, and the one we will pass on to the next generation, just as our ancestors passed it on to us. And that is how we hope to earn your trust—every day.
CONTACT US
To inquire about our wholesale trading information, please visit and kindly fill out the following inquiry form. Please note that, by clicking the below link, you will be transferred to the website of our partner distributor, IFJ Tradings.